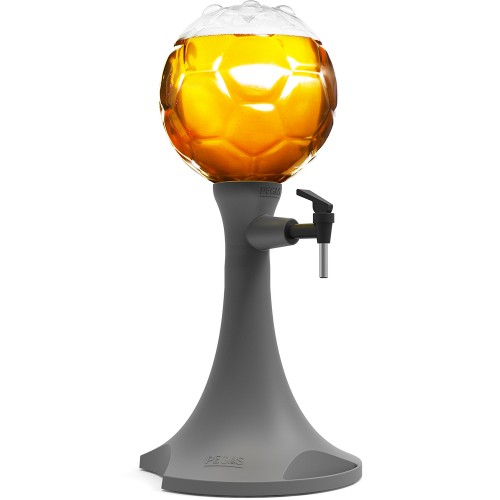 Dispensing device Pegas Sputnik
129900
Dispensing device Pegas Sputnik
Switch handle - no need to pull the handle up now! Push the handle to feed gas, pull — to pour drink.
Throttle screw - screw of a new device has a different thread pitch which allows control flows already at a 45 degrees turn.
Body - is strengthened at connecting pipe fixing place — plastic is now thicker so that when used or often dismantled, device body won't crack or break.
Cork - having a cork removed, you can easily connect device to a beer tap to pour it into a glass.
Cross-functional bottle-holder -  tightening both bottles with high and low necks. Bottles of various standards will fit — BPF, PCO1810, PCO1881. The place where bottle-holder fixes a bottle is now strengthened with a metal sheet.
The PEGAS Evolution device dispenses equally well – quickly and healthy – both light and dark beer brands and, indeed, any gas-containing drinks! The PEGAS Evolution provides foam-free dispensing even if a cooler doesn't work properly. You won't need to adjust your equipment to every beer brand – just connect a keg and pour it.
PEGAS Evolution – the latest offer in the range of the foam-free dispensing devices for beer and sugar-containing drinks under the famous trademark PEGAS. The body of the device looks a lot like other famous models that are already present at the market – PEGAS Classic and PEGAS Ecotap Next, but if one checks it "under the bonnet", it becomes clear that the PEGAS Evolution is a new generation device. And this feature determined its name – Evolution, which means a positive change of a system in the course of time.
What makes the PEGAS Evolution so special comparing to its precursors? There are many differences, but the main one is that this device doesn't have a cartridge. None. At all. Instead, it is equipped with the flow switch, designed by the company. As well as in a good and expensive car, all innovations and technological characteristics of the device are hidden inside: experts of the manufacturing site designed internal holes to provide the best possible liquid flow inside the product. Even if the device is not properly maintained and sugar-containing drink dries up inside, no internal damage to the plastic material will be inflicted once the device is put into work again. The new flow switch is simple to work with: it is low-maintenance and doesn't require replacement. The device will work at least one whole season and regular attendance will ensure its long and reliable service.
As well as in the previous PEGAS devices, dispensing in the PEGAS Evolution is based on the counter pressure method, which ensures that customers will enjoy the same taste and carbonation level as the drink had when it was dispensed at the brewery.