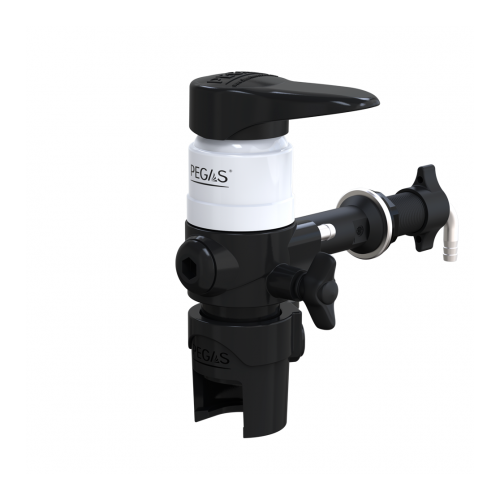 Dispensing device PEGAS EcoJet
123912
PEGAS EcoJet – cost-effective novelty of the season. The best key feautures – fast foamless dispensing, easy operation and maitenance, stylish design – these all come together in new dispenser PEGAS EcoJet and UNDER A GOOD PRICE!
Dispensing device PEGAS EcoJet
 15% less of spare parts! PEGAS EcoJet mechanism became simpler due to connecting of some spare parts – gas supply handle and beer supply, bottle sealing part, body- all into a solid parts.
  Practical bottle sealing mechanism. Bottle sealing mechanism now is improved and has correct and practical placement on the level of the roller, this way evenly distributing efforts when pressing and eliminates breakage when operating.
  High filling speed. Innovative developments of certain parts considerably increased filling speed. Pressure release valve has floating 90 degree, easily regulates CO2 and beer supply. Spiral screw evenly distributes beer flow on bottle walls.
  Stylish look. Industrial beverage dispensing that is used in all PEGAS products has established a great reputation over the years. Always high quality products have became the signature of PEGAS. 
  Classic design. PEGAS EcoJet – this is a classic combination of black and white, harmonically blended. PEGAS EcoJet – will bring an elegant look to your establishment!